The inauguration of the classroom building at Phu Vinh Primary school, Tan Lac district (Image: Viet Nam ChildFund)
On 20th, September 2019, Viet Nam ChildFund organization, Bumhan and the Management Board of NGO projects in Tan Lac district, Hoa Binh province held the inauguration of the classroom building at Phu Vinh Primary School, Tan Lac District. In the new school year, more than 460 students have the opportunity to study in a safe environment.
The new classroom building was completed in mid-2019, with financial support from Bumhan Cable & System, the South Korean Gyeongnam Regional Support Group and individual donors of ChildFund Korea. The classroom area has a playground and kitchen. Thereby, helping the children in Phu Vinh to have a safe playing space, with meals served at the school during their school day.
On this occasion, the team also gave 465 learning kits, 15 sets of personal computers to students. With a well-equipped computer room, children will have their first lessons with information technology, opening up new opportunities for them to access and use the internet to support learning activities.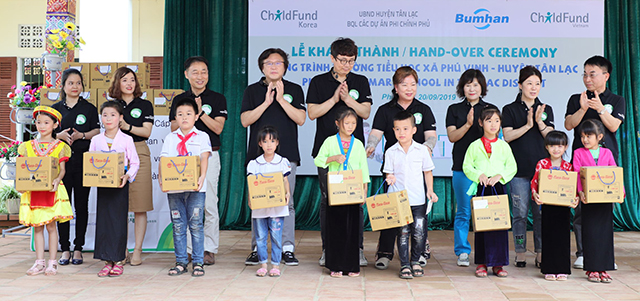 Giving gifts for students of Phu Vinh school (Image: Viet Nam ChildFund)

In addition to supporting the improvement of facilities, ChildFund also supports the activities of cognitive development, social understanding, positive emotion and physical building of children. The key activities including language knowledge and skills, STEM subjects (science, technology and math), arts and physical education.
Bumhan receive the certificate of merit from Hoa Binh Province people's commitee
Link: https://www.nhandan.com.vn/xahoi/nhan-ai/item/41629902-khanh-thanh-lop-hoc-cho-xa-mien-nui-o-hoa-binh.html